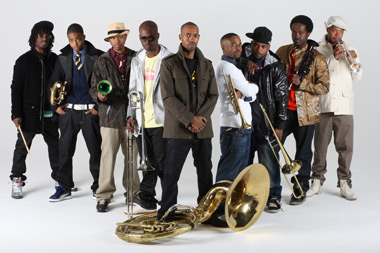 Five trumpets and three tubas - this is the real power of the sound of the amazing family band with a long tradition, called the Hypnotic Brass Ensemble. This group of eight, founded by sons of the Chicago jazzman Phil Corhan could have probably joined the Sun Ra orchestra or walk the streets of New Orleans some time ago. Nowadays, after many years spent on the streets of London and New York, dressed like full-fledged hip-hop musicians, they perform with such stars as Mos Def and Erykah Badu. And their greatest fan is Damon Albarn, who signed a contract with them for his production company Honest Jon's and invited them to play on the latest Gorlliaz album "Plastic Beach". Currently, the group is promoting its mini-album "Heritage" with interpretations of works of Jay-Z, Outkast and other artists.
www.myspace.com/hypnoticbusiness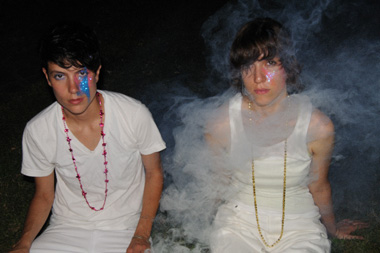 This band has drawn a lot of attention for quite a long time and not only in New York where they come from. At first, this was due to two melodious singles "Chrome's On It" and "Can't Stand It", and then due to the support of David Sitek of TV on the Radio, who decided to help his old acquaintances and produce their debut album "Dance Mother". Thanks to him, Melissa Livaudis and Busy Gangnes officially joined the artists who know exactly how elegant and not trivial pop with dance rhythm should sound these days without any chances of commercial success. They joined Julian Casablancas of The Strokes on tour in the States and were offered to play concerts with Diplo and the Ladytron group. It shows some telepathic talent, since the goodwill of the Telepathe duo was captured by so many artists.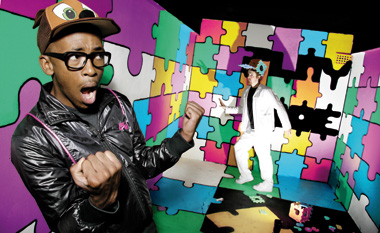 You must not miss this duo in the fever of the football World Cup in the Republic of South Africa. The rapper and dancers Spoek and DJ Fuck come from Johannesburg, and their music reflects perfectly the current atmosphere of this city and contemporary life of young people there. "This dynamics of racial, political and economic transformation and all this is so complicated. We were born in a country which has to cope with its past. But we want to forget everything and just have fun." From typical African club kwaito rhythms to the British grime and dancehall to the American old-school hip-hop and electro - Playdoe should surprise even those who follow fashionable trends. In a few months they may be talked about in Europe, too.