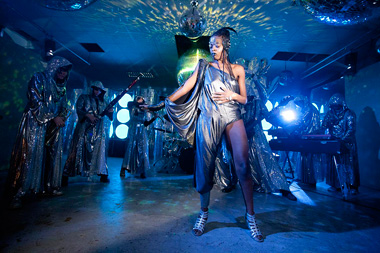 How can disco be joined with metal? You'd better ask brothers Leo and Milo Smee. The former was the bass player of the doom metal band Catherdal, the latter - a rave DJ, but almost ten years ago they resolved to join forces and do together something untypical. This is how they founded the twelve-person Chrom Hoof orchestra, whom they dressed in silver coats, looking on the stage like a Funkadelic group or characters of a poor science fiction film. For the leader, they chose the black-skinned vocalist Lole Olafisoye, who is as equally amazing and charismatic as Grace Jones. And they endowed the music with mad disco rhythm, more attractive due to the sinister deathmetal climate and complex orchestration. After their latest album, "Crush Depth" many critics found it hard to believe, as the music was quite unimaginable. But it can be easily danced to.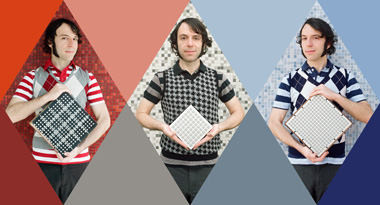 There is no exaggeration in his stage name. Alfred Darlington is a real renaissance man, creator of playing systems and computer programmer, but above all, a very experienced artist and producer. He looks somewhat eccentric, stylised as a dandy, and his unusual way of dressing perfectly matches the music he composes. There is virtually no genre he wouldn't try to cope with - he is educated in classical music, he has played in rock and jazz bands. His hip-hop productions fascinated Madlib and Prefuse 73, while his electronic records were acclaimed by the Plug Research and Ninja Tune production companies. Lately, together with his wife Laura Darling, he even established a modern folk duo, the Long Lost. Nothing is impossible for him.
www.myspace.com/daedelusdarling
The members of Wiolonczele Z Miasta explain: "Our music is a comic-book meeting of a punk Joker with ethnic Batman on the rustling streets of Gotham City." No matter how accurate the metaphor is, it reflects perfectly the quite astonishing and original style of the group, whose members - according to its name - combine classic instrumentation with modern electronic sounds. In their repertoire, Bach's suites rub shoulders with highlanders' songs and guitar riffs by Hendriks encounter Gregorian choirs. Although the group led by Marcin Krzyżanowski debuted only three years ago with the album "No i Monika", released by Biodro Records, its history originates actually in the 1980s and the forgotten band called Sono-Visual Project. The group's composition has changed many times over the years, but the free and uncompromising spirit of the music has remained the same.
www.myspace.com/wiolonczelezmiasta


Zeppy Zep